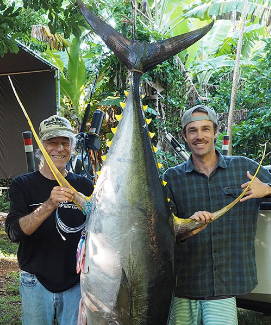 Mark & Jesse White - Mark White Lures
In just three short years, Brett Crane has emerged from a lure enthusiast to well respected lure crafter with thousands of his baits distributed around the world. In this time, Brett has continued to hone his craft and developed his own style. Crafting lures in Southern California has allowed us to closely monitor his progress.
Brett grew up on boats and worked on sportfishers, fishing Alaska to Panama and everywhere in between. His lures have caught world-class marlin and teams pulling his lures have collected checks from several tournaments such as the Los Cabos Bisbee's, Bisbee's Black & Blue, and the Reunion Island Blue Marlin Open.
Brett's lures have been featured in fishing publications such as Marlin Magazine. Marlin ranked his 6oz. 4-Hole Jetted Bullet was amongst one of the best bullets in the business and his Medium Plunger was noted as a great choice in any spread.
We think our customers will be impressed with his creativity, expert craftsmanship and attention to detail.
Brett lives in Dana Point, CA with his wife Katie and two young children.
The concept of ceramic fishing lures grew out of the White's pottery business. Mark and his wife and have worked as production potters for over 40 years making porcelain dinnerware, decorative vases, and gift items.
Mark had become interested in top water lures and wondered why no one was making them commercially. He found out years later that Peter Dunn-Rankin, UH professor and author of Fishing the Reefs, was making trolling lures out of porcelain. Mark started doing some experiments in both surface plugs and trolling lures. He quickly realized there were some excellent benefits to using porcelain as a lure material and started to dream about making ceramic lures as a business once he caught his first fish on one. There were a few problems he needed to resolve, however.
Porcelain is a strong and durable pottery body, but it is too fragile for fishing lures along the shoreline if it hits the rocks. He realized he needed to become knowledgeable in ceramic engineering and start testing as many materials that had characteristics suitable to form a fracture-tough matrix when fired at 1300c. Most technical ceramics require extensive processing and are fired in inert gas environments at much higher temperatures. The expense to go high-tech was not practical for he could not feasibly do that on an island in the middle of the Pacific with the lack of resources. It took many years of test batches with a variety of materials to see if he could find a formula that would have the characteristics he wanted for a suitable fired ceramic body.
After 10 years of RnD Mark felt ready to launch the lure business. Over time, Mark's son, Jesse got the bug and they are now a father/son team, producing the Mark White trolling and casting lures.
All lures come with Mark's lifetime warranty that guarantees their product for life against breakage and fracture.